Radio is a timeless source of entertainment for all ages in the United States. As such, radio is also an important vehicle for advertising. Earlier I've written about some tips to get your message to the largest amount of people. Now I'm going to write about the commercial reach of radio.
Who's Listening?:
Radio reaches more than 243 million American adults each month. That's about 96% of US adults listening to the radio at some point each month. Every week, 94% of adults listen to the radio. This has been true for a number of the past few years and is comparable to the 94.9% that listen to the radio in 2001. These numbers haven't changed much over the years, even with the introduction of iPods and music streaming. So it's reasonable to assume they won't change anytime soon.
If we break it down further by generations, we can see some of the specifics of demographics. 95% of Millennials listen every month. 97% of Gen Xers and 98% of Boomers listen to the radio weekly. 44.6 million Hispanics and 34.5 million African Americans listen to the radio each month (96% and 97% respectively). Radio reaches most Americans regularly, whether it be driving in the car, listening at work, or having it on at home.
According to reports, those who are more educated and have a higher annual income, listen to radio more often. As you move from not working to working, levels of education, and average annual income, the higher percentage of people listen. For example, 71% of working people in the survey listen to the radio, compared to 61% of non-workers. 74% of degree-holding people listen to the radio, 62% of those with some college, and 56% of those with no college. On the salary side of things, people who make less than 25k have about a 50% listening rate in that demographic. 61% of those in the 25k-$44.9k range, 68% of those in the $45k-$74.9k range, and 75% of those in the $75k+ range.
Why do people listen to the radio?
Finding why people listen to the radio is helpful information when you begin crafting your ad campaign, but the answers tend to be less than helpful. Targeting a popular DJ is always a good shout for a consistent audience but surveys show that only about 24.5% of people listen to the radio for its DJs or show hosts. Most people listen to the radio because it's free and convenient to listen to in the car. About 57% of the 18-34 demographic listen because it is free. That number rises as you get older with 61% and 66% in the 35-54 and 55-75 age groups respectively. There's no single reason why people listen to the radio. 200 million people listen to the radio every month for a variety of reasons. Here's the full list from Deloitte.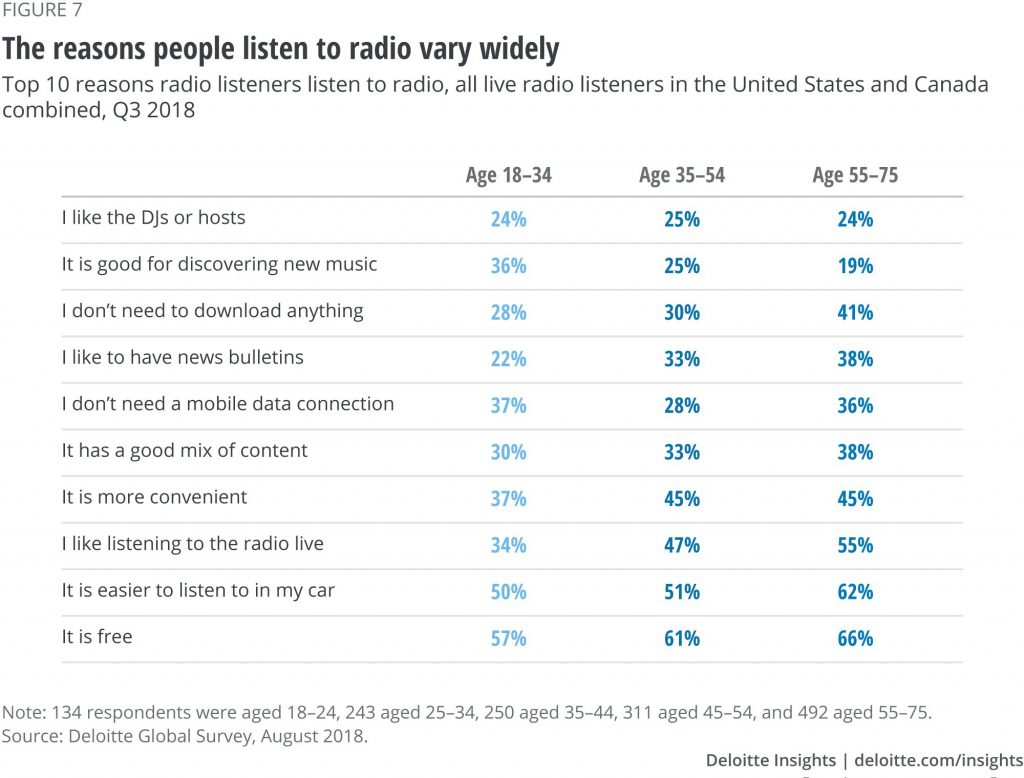 Conclusion:
TV and Newspapers have struggled in recent years, but Radio has stayed relatively consistent. The TV has seen a 50% decline in viewership from the younger demographics in the past few years, and newspapers as a medium are struggling. Radio doesn't have these problems, and it's just as relevant now as it was 20 years ago. That means it's still a viable platform for advertising and marketing. Any more questions? You can contact us here!