Recently I was looking over notifications for one of the Facebook pages I manage when I stumbled into this message alert atop the page about a beacon:

Facebook is certainly one for new innovations that usually aren't introduced. But rather implemented. Therefore, I was less than shocked to see yet another "Facebook update" that I hadn't heard of. Even working day-to-day in the Marketing and Social Media world doesn't necessarily grant you awareness of current trends. But being that I like to have know-how of such events. I thought I'd investigate these new Facebook "beacons" and find out if indeed this was a special invitation.
Basically what I've found is such: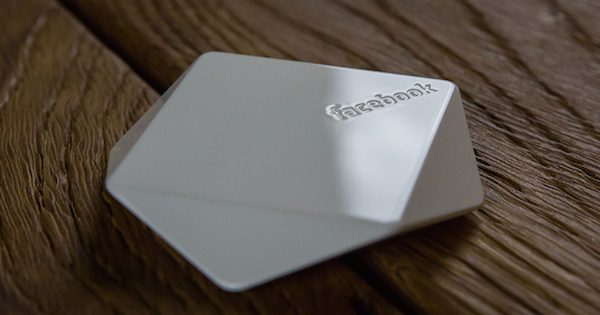 A Beacon is a Bluetooth device.
Facebook plans to send these devices to businesses with great activity on Facebook within their local area for early access trial runs.
The beacon will interact with your customers' Facebook apps while visiting your business. To let them know inside "tips" about your business. These tips are based off of comments your friends have made on Facebook, reviews of the business, photos that have been posted and more of that liking.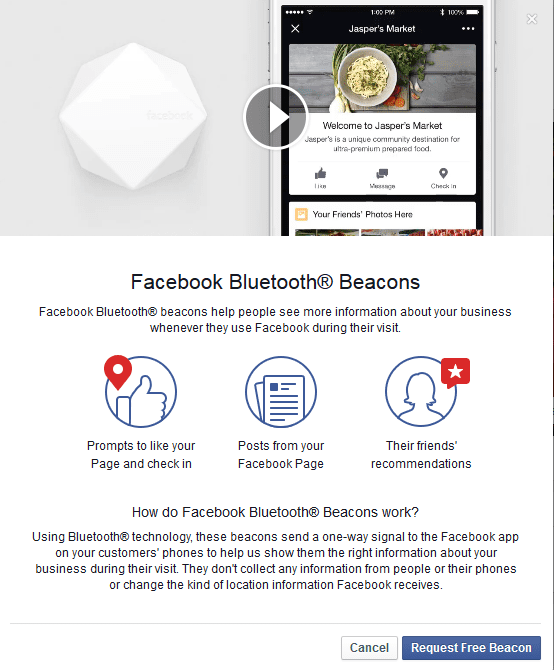 According to an article posted in Facebook's Help Center: "Your location is determined using cellular networks, Wi-Fi, GPS and Facebook Bluetooth® beacons. Viewing place tips doesn't post on Facebook or show people where you are."
When I clicked "Get Free Beacon" I was taken to a form to fill out name, address and business name. There's also an option to send the device to a different address. Than that of the business page you were on. If you are like me and managing a page for another company.
Is this the future?
So far as I see it, this new addition to Facebook technology could either be a fantastic advantage for businesses and their customers. Or it could be taken as yet another creepy invasion of technology that we now need to block in our privacy settings. As a Social Media Maven and voice for many businesses soon to receive these beacons. I'm obviously pushing for the former to be true.
At this time we have not yet received the device or put it into action so only time will tell how people react. We will update once we have more information for you and try these little Bluetooth gems for ourselves.
Have you heard about Beacons? Were you invited to use one? What are your thoughts on this technology and Facebook introducing it to their platform?