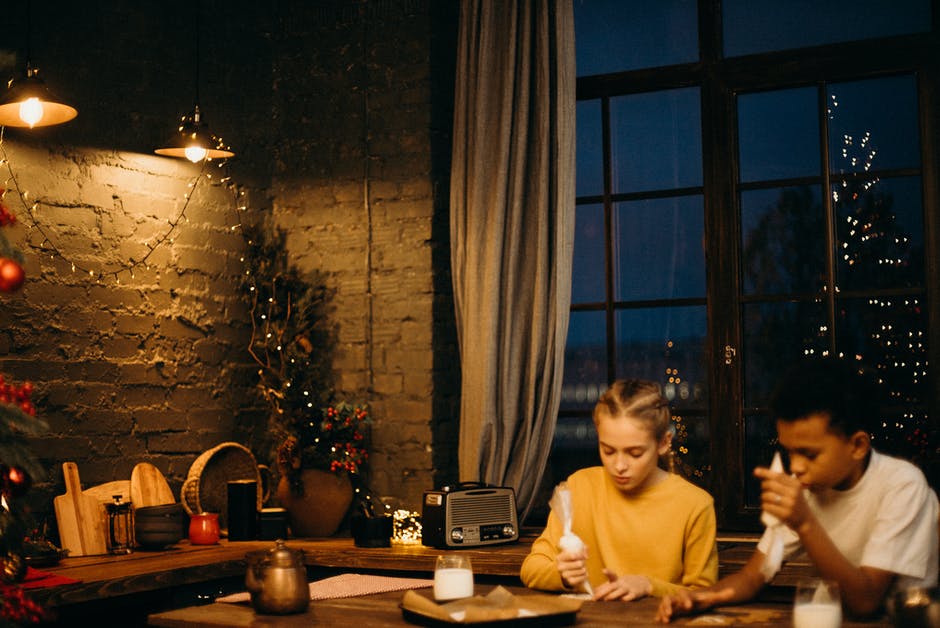 Have you browsed the toy aisle at Target lately? You might recognize some throwback items.
Fisher-Price is bringing back replicas of the 1980s and 1990s toys. CareBears, My Little Pony, Saved By the Bell, Smurfs, and Alvin and The Chipmunks have all made comebacks in the past ten years.
Advertisers are tapping into the joys of yesteryear in an attempt to counter pandemic fatigue and the stress of 2020 and 2021. TV ads, shows, movies, even holiday radio jingles can use the same concepts for success this season.
It turns out today's American parents are enamored with nostalgia, and the holiday season is the perfect time for children of the 1980s and 1990s to take their kids on a walk down memory lane. Just ask any parent over 35 if they've watched Home Alone or A Christmas Story with their kids.
Keep reading to revel in the holiday season cheer these vintage TV and holiday radio jingles will inspire.
What Makes Great a Holiday Radio Jingle?
Holiday radio jingles should invoke listeners' emotions. The best Christmas radio advertisements grab attention and keep it. So how do successful holiday advertising radio jingles combine these two concepts?
Creating a sense of nostalgia is an effective tool in holiday advertising. GenX and Millenials love to relive their childhoods. Bringing back popular 1980s and 90s holiday radio jingles grab attention and invoke emotion for these generations.
Not only do they get excited about the music from their past, but they also want to share those sounds (and the feelings they conjure up) with their kids.
Incorporating the right instruments is essential as well. Without those iconic festive sounds, you can't create a memorable holiday radio jingle. Composers are experts at mixing instruments with bells and vocals.
And some holiday commercials stand out more than others simply because they master the mix!
Hershey's Holiday Bells: We Wish You a Merry Christmas
Nothing rings in the holiday season like a Hershey's Chocolate Kiss commercial. This timeless classic is proof that effective marketing doesn't have to break the bank.
If you don't remember, this holiday classic portrays ten red and green Hershey's Kisses in a triangle formation. There's a lone silver Kiss at the triangle's base directing the operation.
When the director nods, each green and red Kiss takes their turn, ringing a note of the classic holiday song, We Wish You a Merry Christmas. The silver Kiss director waves its Hershey flag to the beat of the music.
The simple bell-influenced soundtrack has become synonymous with Hershey Chocolate Kisses. This jingle is a stroke of marketing genius at only fifteen seconds long.
M&M's: Dance of the Sugar Plum Fairy
Just try listening to the Dance of the Sugar Plum Fairy and not hear the memorable phrase, "They do exist!" This commercial portrays two classic M&M characters leaving milk and cookies out for St. Nick.
When the pair come across Santa stuffing their stockings, everyone is surprised. One animated chocolate morsel yells, "He does exist!" Shocked, Santa replies, "They do exist!" and promptly faints.
This whole exchange takes place to the sweet, familiar tune of the Dance of the Sugar Plum Fairy.
Taco John's: Nachos Navidad
"I want to wish you a Merry Christmas, from the bottom of my heart! And from Taco John's!"
Does this sound familiar? We bet you can hear the tune Feliz Navidad—made famous by Jose Feliciano—in your mind right now. Taco John's gives us something to look forward to with their Nachos Navidad each year.
The annual red and green nachos aren't just a festive favorite for the dinner table. Each Taco John's franchise donates a portion of their holiday nacho proceeds to local charity organizations.
Pairing a holiday giving campaign with the sounds and tastes of the festive season is a clever way to run an ad campaign that benefits everyone!
Campbell's Soup: Let It Snow
In 1998, Campbell's used the classic holiday tune, Let it Snow, in a now-iconic commercial. In the ad, a snowman is unhappy about the cold and windy weather. It makes its way inside and sits down to eat a warming bowl of Campbell's Chicken Noodle Soup.
Once it gets warm, the snow melts off the snowman, and a little boy is sitting in its place. This Campbell's Soup commercial is guaranteed to make every viewer feel the coziness of the holiday season.
Coca-Cola: Always Coca-Cola
Coca-Cola has always used its own jingle to ring in the holiday season. Their "Always Coca-Cola" commercials have featured brightly lit semi-trucks to polar bears since the early 1900s.
Play this song for anyone born before 1995 and they'll recognize it right away!
More Popular Sounds of the Season
There are plenty of seasonal songs, but some have serious staying power. The best Christmas radio advertisements tap into the concept of the earworm—you know, that song you hear playing over and over in your head.
From classical music to Top 40 hits, here are some of the most recognized festive tunes.
Anything from the Nutcracker
It's probably safe to conclude that Tschaikovsky had no idea how wildly popular this eight-numbered suite would become. These pieces were composed in the early 1890s and still play in almost every retail outlet.
White Christmas
This Bing Crosby classic was originally performed in the movie Holiday Inn. It's catchy, fun, and sure to bring a smile to anyone's face.
There's No Place Like Home for the Holidays
This classic has been co-opted by almost every musical genre. It's upbeat, happy, and easy to sing along to. This song proves that nostalgia can be a powerful tool in advertising year after year.
All I Want for Christmas Is You
It's almost impossible to listen to this Mariah Carey hit and not tap your foot to the beat. From jiggling in your seat at work to an all-out dance party, it has that perfect mix of rhythm, lyrics, vocals, and nostalgia to get everyone's attention.
Other great covers of this song include versions by The Roots and Jimmy Fallon with Miriah Carey and the Piano Guys.
Have Yourself a Merry Little Christmas
Frank Sinatra made this tune famous in the 1950s. Depending on the visuals, vocals, and instruments this song is paired with, it can be tear-jerking or heartwarming—or even both simultaneously.
Baby, It's Cold Outside
Despite the controversy surrounding this tune, it has been embraced by all kinds of companies, singers, and celebrities. Few people can forget Will Ferrell and Zoey Deschanel's rendition in the Christmas movie Elf.
In other contemporary duets, the words are often changed to make them a little less, shall we say, culturally awkward. And this is a solution embraced by radio advertisers seeking to utilize this catchy holiday tune still, too.
The Channuka Song
This ditty by actor, director, and comedian Adam Sandler is a knee-slapper for sure. Anyone who loves this parody song should look up the Diwali version by Steve Carell of The Office. (A parody of a parody—meta, we know!)
Little St. Nick
What this song lacks in meaningful lyrics, it makes up for in pep. Brian Williams and The Beach Boys' unmistakable harmonies shine through in this holiday favorite.
Jingle Bell Rock
Bobbly Helms, Brenda Lee, and Lindsay Lohan have all ensured Jingle Bell Rock has remained relevant to numerous generations of pop music lovers. This upbeat favorite would be a good lead-in or lyric re-write option for a holiday radio jingle.
Carol of the Bells
This instrumental favorite is a Christmas classic. Many people associate this piece of music with the choir scene from the family film Home Alone. It's an unmistakable holiday season song.
What Makes Holiday Radio Jingles So Catchy?
If you listen to a lot of holiday music, you'll start to notice familiar themes and sounds. It's clear that people associate certain rhythms, instruments, and arrangements with the US festive season.
Bells or chimes are often used in intros and outros. Many holiday radio jingles have upbeat tempos and brass accompaniments.
Jingle or Sleigh Bells
Those iconic sleigh bells conjure up visions of Santa on his sleigh. Using jingle bells as an entrance or exit sound is always a great way to start or end a holiday radio advertisement. A sprinkle of jingle bells mid-commercial is a subtle way to add interest to a holiday radio advertisement.
Ho, Ho, Ho
Adding Santa's jolly old voice to radio jingles for holiday advertising might seem cliche, but it works every time. It's a practical and obvious way to encourage listeners to get into the holiday spirit.
Handbells and Chimes
"Ding, dong! Ding, dong!"
You'll hear this unmistakable Christmas sound on the iconic Hershey's Kiss commercial. Handbells are also an essential feature of Paul McCartney's Simply Having a Wonderful Christmastime.
Listen carefully, and you'll start to hear handbells in many of the most popular holiday tunes.
Children's Choirs
The sweet, innocent, and pure sound of children singing is the perfect partner for a holiday radio jingle. Check out The Christmas Cannon by Trans Siberian Orchestra for a great example of what can be achieved
How to Make the Best Holiday Radio Jingles
The pros at Killer Spots Agency can help you create that oh-so-perfect mix for your holiday radio jingle. Your jingle will be 100% custom created and 100% yours. We also offer web design, social media management, and SEO services to really get your message out to the right audience.
Contact us today, and we'll partner with you to ring in Christmas with a holiday radio jingle to remember.