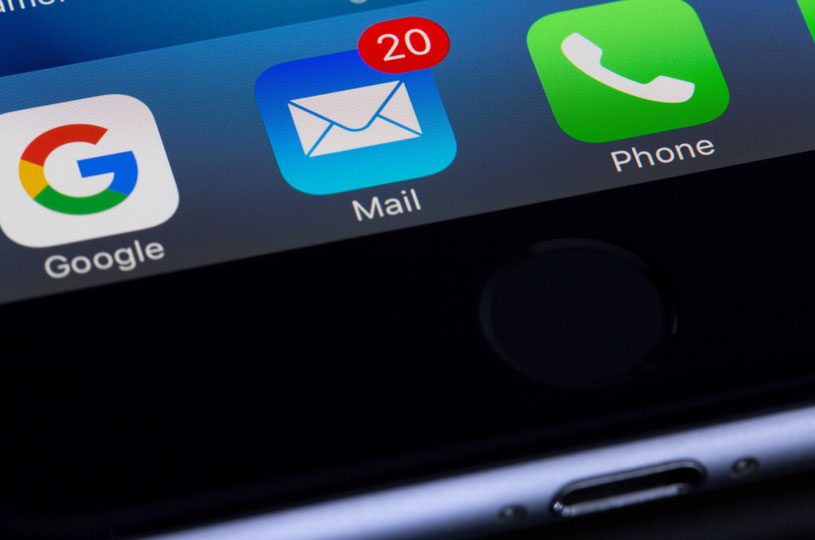 Small businesses have lots of options when it comes to marketing strategies. However, those options are not all created equal. Some may be more expensive or time-consuming than others, and some may have higher ROI. The type of business you own will largely determine the different marketing strategies you employ, but there is one that is effective across industries:
Email marketing.
There are many benefits of email marketing as a marketing strategy. And did you know that email marketing is one of the most well-received forms of marketing with consistent ROI?
Many people spend a considerable amount of their day looking at emails, especially on smartphones. A recent survey from Statista found that almost 50% of smartphone users prefer to receive communications from businesses via email. And those communications are usually successful in converting to sales. Another survey found that 50% of people buy from marketing emails at least once a month. This leads to an impressive average ROI for email marketing, earning approximately $36 for every $1 spent.
Numbers, however, aren't the only incentive to work email marketing into your marketing strategy. Read on for the top 7 benefits of email marketing that you can take advantage of for your business.
Personalized Marketing
Email marketing is easy to personalize, which can make it more effective at converting leads and earning sales. Personalization options for email marketing are endless, but there are two common strategies.
The first involves simply including the recipient's name in the subject line or body copy of the email. It seems simple, but this strategy is incredibly effective in increasing email open rates. Emails with personalized subject lines have a 26% higher open rate than generic subject lines. Most email marketing platforms include easy-to-use codes to include the recipient's name, so it's easier than ever to personalize your email marketing strategy.
Segmentation is the second personalization strategy for email marketing. Segmentation is when you divide your email list into categories and send different communications to each category. For example, you could have one email go out to first-time customers, and a different one sent to repeat customers. If your business markets multiple products or services, you can also utilize CRM software to tag your email list based on the services your contacts are interested in. Then you can opt to only send emails about certain services to those contacts. This ensures that your messages are relevant and interesting, instead of being viewed as spam.
Measurable Results
Another one of the benefits of email marketing is how easy it is to see measurable results. Email platforms often have built-in statistics that detail bounce rates, open rates, click-through rates, and more. You can see how quickly a contact opened an email after it was sent, or how many recipients clicked on a link in the email. This data is invaluable for future email marketing initiatives. Use the data to determine what works and what doesn't, and you can refine future emails using those strategies.
Increased Site Traffic
Improved SEO is another benefit of email marketing. Including links to your website in your email communications encourages recipients to go to your website to check out your products and services. Backlinks to your website via email will improve your website's SEO ranking overall. Emails with links to your website also can generate more traffic by word-of-mouth. Recipients can forward an interesting email to their other contacts, which could lead to more customers checking out your site who may not have otherwise.
Increased Sales
60% of consumers in a survey reported that they have made a purchase because of a marketing email they received. This statistic is particularly noteworthy for small businesses with an e-commerce site. Emails detailing promotions, sales, or product highlights can generate interest and encourage customers to purchase to take advantage of a deal. You can even develop email-only promotions or deliver your contacts a special coupon code to further entice them.
Cost-Effective
With a high ROI, email marketing is more cost-effective than other forms of marketing. Sending printed mailers, producing radio or television ads, or hiring more marketing personnel are all costly marketing strategies that may be difficult for small businesses. Email is an easy way to reach thousands or hundreds of thousands of people in minutes, at little cost to you. Many CRMs make it easy to send emails directly from their software to your contacts, so you can manage your customers and your emails all in one place for one price.
Timesaving
As a small business owner, you know that time is invaluable. In addition to being cost-effective, another benefit of email marketing is how much time it will save you compared to other forms of marketing. Traditional marketing campaigns, like television, radio, or print, can take weeks or months to produce and implement. Email marketing is easier and faster to put together, which means that your emails can be more timely or topical depending on what is going on in your business and the world at large. Emails don't have to be fancy, either! A simple text-based email can be composed quickly and sent out even within a single day.
Improves Recognition
Finally, another benefit of email marketing is it can help improve your brand recognition. Email communications, like other written brand communications, will often be composed in your brand voice, or showcase your brand colors, style, or logos. Showing off your brand's personality in your emails and providing your email list with something of value may even generate excitement for your weekly or monthly newsletters. You can research your audience and even do surveys to determine what kind of content they'd like to see in their inboxes. Then, when you deliver, it will improve your brand recognition and brand image overall.
Develop Killer Email Marketing with Killerspots
When done right, the benefits of email marketing are vast and rewarding. The first step to drafting a killer email campaign, however, is with killer written content. If you need help crafting emails for your small business, Killerspots' team of talented writers can help create emails that engage and convert. Get in touch with us today to speak with our writing and marketing teams.