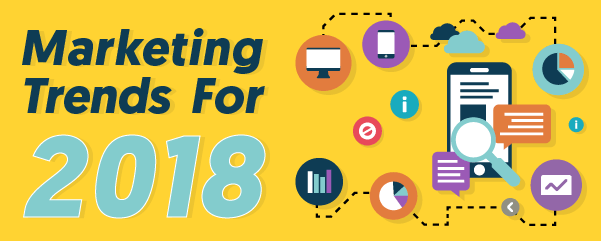 2017 is drawing to a close, and it's already time to start thinking about next year!
The goal of any business is an overall improvement. Therefore, one way to ensure your business stays on top is sticking to marketing trends.
Here are our top 4 trends you should focus your marketing going into 2018.
Social Marketing
It is worth dealing if you invest in social marketing to promote your brand. The social media platform is the one which takes information from you and prevails this information among thousands of people in a few seconds. Such as Facebook's News Feed. Almost every business today has adopted the news feed.
Smart Content Marketing
Content marketing is all which can win the whole game of marketing in the future. Quality content is prepared to understand the needs of your potential customers. For this, the smart content approach is used by various marketers nowadays.
Content marketing professionals used to add personalization elements in their content in order to drive better performance. To fulfill the needs of your customer you should create customer-centric content.
Video Marketing
Additionally, a video is a key element in video marketing. Whether it is a simple ad, top commercial regarding anything or any other informative thing, videos if embedded into this would surely attract most of the people and provide visually-rich, interactive content to them in order to convey their message.
As a result, the audience takes considerable action towards it and further like it or post it or share it by making use of various social channels viz. Like Facebook, Snapchat, Instagram, etc. The high-quality content video is the demand for the future now.
Automation
Finally, marketing automation is a great tool for marketing which automates all marketing activities easily. It mainly includes behavioral Email marketing, CRM, and web personalization. It allows marketers to use their time and efforts in an efficient way to get potential customers and for lead generation. Therefore, it combines your marketing campaigns across all channels from direct mail to social initiatives.
Have any questions about marketing? Or looking for help improving your marketing ventures? Contact us here!