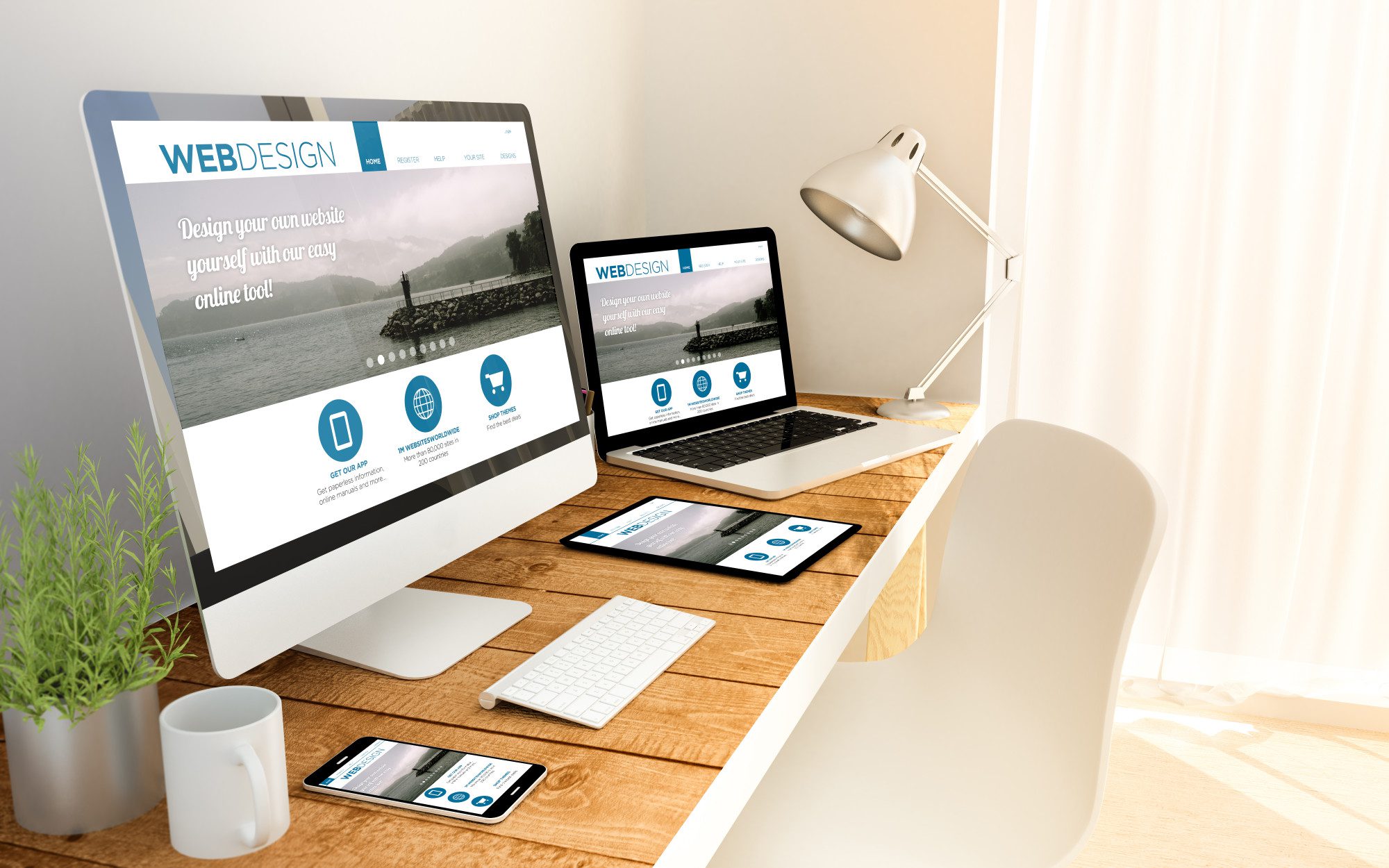 An impressive, eye-catching website can make a big difference to your overall business success. In fact, about 50% of customers say a website's design is the main factor they use to determine a company's credibility. Another 38% will leave a website if it's unattractive. With more people staying home in light of COVID, you need to reach customers online. Hiring a professional website company can help you stand out and expand your reach. Otherwise, you could risk falling behind the competition. Still on the fence about spending money on web design services?
Here are nine amazing benefits you can experience by hiring a team of web designers right away. Discover how web design can boost your business with this guide today!
1. Strengthen Your Digital Marketing Strategy
What do you have in store for your digital marketing strategy this year? Are you trying to reach more search engine users using search engine optimization (SEO)? Perhaps you're using pay-per-click (PPC) advertising instead.
Either way, your website is an essential part of your overall marketing strategy.
Consumers won't choose a business they know nothing about. They want to learn about what you have to offer. Many will explore your website to determine who you are and what you do.
Remember, your web design can have a big impact on your company's credibility. A messy, confusing website could scare off potential customers.
If people leave without clicking around, it could impact your bounce rate, clickthrough rate, and dwell time. These metrics can impact your search engine ranking.
You could waste valuable time and money on SEO and PPC if your website is old and out of date.
SEO and PPC both help you reach more online consumers. The higher you rank, the more often shoppers will see your brand. With these digital marketing strategies, you can:
Build brand awareness
Become a thought leader in your industry
Outrank the competition
Attract more website traffic
Build brand trust and loyalty
People will see you as a credible resource.
If your website is old, slow, or insecure, however, you'll miss your chance!
By choosing web design services, you can build a website that accomplishes your digital marketing goals instead of hinders them.
2. Appeal to Your Audience
Who are your customers? What issues are they experiencing each day? How can your business help solve those problems?
An experienced web design company will understand that it's essential to create a website with your distinct target audience in mind. Otherwise, a generic website could fail to appeal to their needs and interests.
Working with a web design agency can help you reach customers, draw them in, and generate more leads. They'll research customer demographics like age, gender, and location. Then, they'll build your website with those customers in mind.
Instead of struggling to attract relevant leads, you can reel them in!
3. Support Your SEO Efforts
Remember, your digital marketing strategy could suffer if you're using an old, outdated website. Google considers your entire website when determining your search engine ranking.
Unfortunately for some, Google updates its algorithm numerous times throughout the year. If you're not up-to-date with the latest SEO trends, your ranking could suffer.
Over 90% of all online activity begins on a search engine. Meanwhile, over 70% of searchers never look beyond the first page of a search. You need to reach that first page to draw in fresh web traffic.
A talented web designer can help you achieve your SEO goals.
For example, Google now uses mobile-first indexing to determine rankings. They can update your website to ensure it's mobile optimized. Then, you can reach mobile users (instead of losing a chance at fresh leads).
4. Remain Competitive
What are your competitors doing to improve their own web design this year? Are you falling behind?
Your web design company can help you remain competitive. If you're a small business, a stunning website could even help you look like a big corporation. They can help you wow customers and draw them in before competitors can.
If your website looks old and outdated, however, your competitors will take the lead. Consumers will choose bigger, more successful businesses over ones that look like they're failing.
Remember, your website's design can help support your SEO efforts. You can improve your ranking to appear ahead of big corporations. Positioning yourself ahead of these businesses can help you look like a big business, too.
Then, you can attract those customers before your competitors get the chance!
5. Keep the Lights On
It's likely your business doesn't run 24/7. That's okay. With a stunning website, you can bring in fresh leads and sales whether your store is open or not.
Your website design agency can help you market your business, even when the doors are closed for the night. For example, they can make sure you have plenty of lead opportunities on each page.
Website visitors can fill out a form or subscribe to your newsletter. Without a functional website, however, you've missed out on these leads!
You can also ask your design team to add a chat function to your website. Visitors will see that you're eager to help and answer their questions.
If they don't have a way to communicate with you, however, they'll leave and take their business elsewhere.
In fact, your website could help you draw more traffic into your brick and mortar store, too. Nearly 90% of consumers use the internet to find local businesses. Once they review your website, they'll realize you have exactly what they're looking for!
Are you trying to boost e-commerce sales this year? Your website can either help you or hinder you.
About 70% of online users abandon their shopping carts because of proof web design. Some people struggle to use your website because it's not mobile-optimized, too. Since mobile conversions are 64% higher than desktop, you need a mobile strategy.
Working with a talented web design agency can help you get those sales!
6. Improve the User Experience
Considering user experience (UX) is essential if you want to keep people on your website. In fact, UX can influence your SEO success as well.
Think about how people interact with your website. Can they find everything they need easily? Do your pages load quickly?
A messy, cluttered, confusing website page design can confuse your customers. They'll leave without clicking around. Your SEO ranking will take a hit as a result.
Improving the user experience will keep people on your website. They'll explore, find what they need, and convert.
Ask the web design agency you choose if they have UX design experience. They can improve your website with the users in mind.
For example, it's important to make sure your website loads quickly. Old plugins, heavy images, and clunky pages can slow the site down. In fact, a website that takes 10 seconds increases the probability of a bounce by 123%.
Adjusting your website's page design can improve your content's readability. You can use shorter sentences and paragraphs to make your content easier to skim. Headings and subheadings can better organize your content as well.
What about your page navigation? Is it easy to explore your pages? Does the navigation make sense?
Considering these design elements can help you keep people on your site.
7. Keep Up With Trends
Web design trends change every few months. If your website is behind the times, consumers will take notice. They'll think of your company as old and outdated as well.
For example, you can add:
Big, bold headlines
Motion and animation
Personalized pages
Dark mode
3D and visualized data
Chatbots and assistants
Consumers will start expecting these features across every website. By working with an experienced web design company, you can keep up with these trends.
They'll make sure you never fall behind.
8. Build Trust and Loyalty
Remember, your website page design can speak to your company's credibility. What message do you want to convey to your target audience?
For example, you might have a fun, playful brand. You can use an array of colors, fun animations, and cute doodles across your site.
Do you want to look professional instead?
Either way, your web design company can help you achieve these goals.
Using a DIY website builder, on the other hand, can make your company look small and cheap. Conveying the right message will help you build brand trust. Ensuring visitors find what they need with ease can encourage consumers to trust you as well.
In time, that trust will turn into loyalty, allowing you to retain long-time customers.
9. Improve Your ROI
How can people convert on your website? Do you have a form or chat option? Is the button big, eye-catching, and easy to click on?
Think about your links, too. Broken links could cost you conversions.
Your web design team will improve your website with lead generation in mind. They'll make sure you capitalize on every opportunity to gain a conversion.
With their help, you can boost leads and conversions, improving your company's ROI.
Design It Right: 9 Reasons You Need a Professional Web Design Agency
Don't fall behind the times! Instead, update your website with help from an experienced web design agency. With their experience and expertise, you can stand out from the crowd and boost sales.
Without them, however, your website could fall flat.
Ready to get started? Discover the website you've always wanted. Get a quote from a team of talented web designers today!