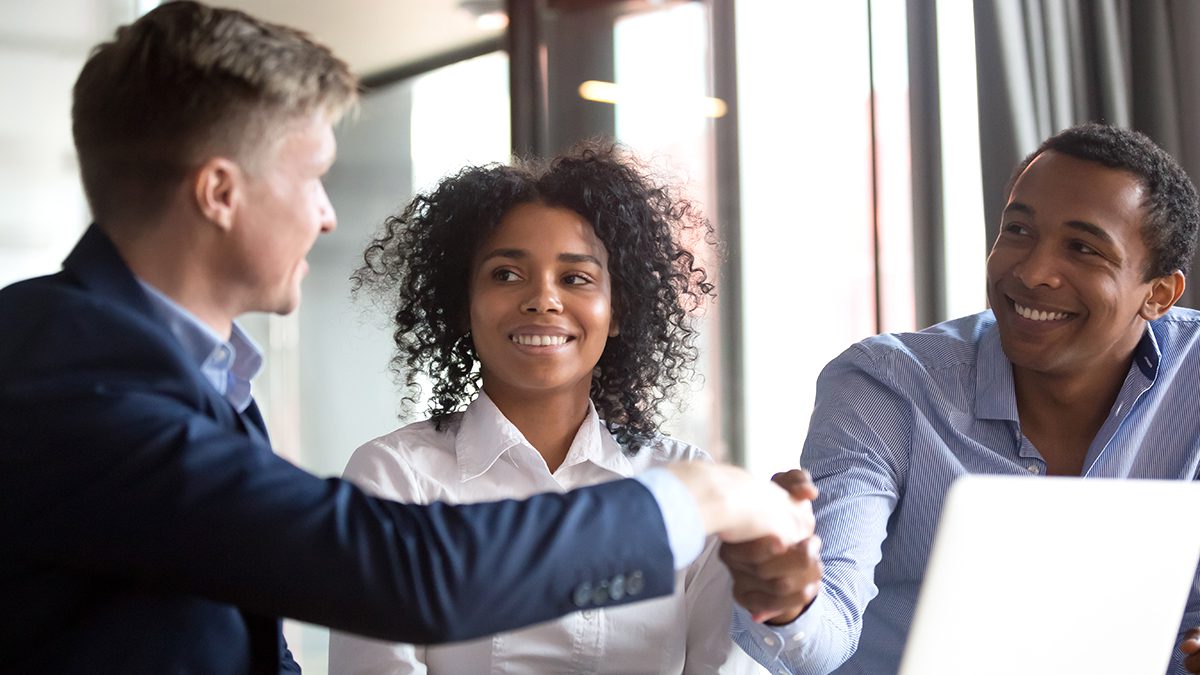 Who are the superstar salespeople you admire?
Is it David Ogilvy, who literally wrote the manual on sales strategies, or Dale Carnegie, who convinced you it was possible to win friends and influence people?
Whoever your sales icons are, they weren't born overnight. It took years of fine-tuning their skills to become the amazing salespeople they are. While there's no shortcut for hard work, we do want to help you streamline the process to achieving sales success.  That's why we gathered the most secret secrets from the best salespeople to share with you as you start on your path to becoming a master salesperson. But, as any good seller knows, what you should do is as important as what you shouldn't do, which is why we've also compiled some of the most common, yet easiest mistakes to avoid.  If you're ready to start to become like your sales heroes (or even surpass them), nailing down these sales strategies skills is the first step. Ready, set, go!
7 Expert Sales Strategies the Best Reps Use
1) Sell benefits, not features.
Research by Impact Communications found 70% of people make purchasing decisions to solve problems, while only 30% make decisions to gain something.
Although your product may have a lot of features that will add to a business, they are more likely to buy something that solves an existing problem. That's why you want to present them with benefits that reduce the problems the company faces.
2) Set and stick to your ideal buyer personas.
Efforts spread too thin are inefficient and ineffective. Use ideal buyer personas to help you understand the "why" of your ideal customer.
Your buyer personas, which are detailed descriptions of different types of ideal customers for your product, should outline more than basic demographic information, and get to the heart of why a customer needs your product.
By setting clear ideal buyer personas and sticking to them, you'll stop wasting time with supremely unqualified prospects that suck your energy away from people who could really benefit from your product.
3) Spend time wisely.
Time is money in the sales world, and beyond knowing your ideal buyer personas, you need to have a plan of action each day to maximize your productivity. In fact, the 2014 Sales Execution Trends by Qvidian found that 59% of a salesperson's time is not spent selling, but is wasted with hunting for sales resources.
Start each day by understanding your goals, and have a clear plan for how you'll accomplish them. Find a sales or project management platform that can help you keep a strict schedule to maximize productivity.
Another way to increase sales strategies productivity is to limit multitasking. It may seem counter-intuitive, but it takes you twice as long to get a single task done when your brain is pulled in a million different directions. Give yourself a time limit to finish one task at a time; you'll be more efficient and have a better understanding of what actions are time sucks and when you can get the most accomplished.
4) Personalize your message.
The best salespeople know that developing a personal connection with your clients is the key to success. Start relationships off on the right foot by sending personalized messages to prospects and avoiding "one size fits all" scripts.
Identify the prospect's unique pain points and tailor your message to address how you can solve those needs. When a prospect feels like you care, you've already made the greatest first impression possible, without even stepping inside the room.
5) Make your process measurable.
In order to learn and grow, your process should be measurable, which means you should have a process for collecting quantitative (useable numerical data) and qualitative (details that help you gain an understanding of underlying motivations) information about your process.
To gather both types of information, practice being obsessive about your process. Keep track of each move you make from initial contact to closing the deal and use that information to pinpoint weak spots. You should also keep track of how many cold calls, follow ups, and meetings you do each day. The goal is to document everything so you can optimize your process.
When you do find weaknesses, make improvement actionable, instead of just telling yourself to "do better." This will give you specific direction on how to improve, and also help you monitor your success.
6) Take notes.
As smart as you are, you don't have perfect memory (and if you do, we want to hire you). It's important that you record the promises you make to clients so you can deliver. You also want to take down feedback and important information about their business; clients should never have to repeat themselves, so pay attention.
Additionally, taking notes does more than give you a hard copy of the conversation—it shows clients you care. Take notes using a pen and paper. This gives clients the impression that you're more attentive and involved in them than if you simply used a laptop or your phone.
7) Tap into the buyer's emotions.
Use emotion-centric language to address a buyer's concerns, since our brains rank feelings above logic when making a decision.
Answer objections with the words "feel," "felt," and "found," and work phrases like "I know how you feel…" and "When this customer used the product they felt…" into your presentation.
9 Rookie Sales Strategies Mistakes You Shouldn't Make
Feel like you've got a lot to practice tomorrow? Well we aren't done yet! Instantly jump from sounding like a beginner to a seasoned pro by avoiding these mistakes most new salespeople make.
1) Don't forget to define a goal for meetings.
Every interaction with a prospect or client should have an end goal. Make sure you outline the purpose of every meeting and have a metric to measure your success at the end.
2) Don't be your only advocate.
There's a limit to how many bold claims you can make about you and your company to a client. Collect endorsements from objective advocates to back you up.
Additionally, don't be afraid to ask for referrals from other clients. According to the Dale Carnegie Group, 91% of customers say they'd give referrals, but only 11% of salespeople ask.
3) Don't make too many follow-up calls to unqualified buyers.
If a buyer is unqualified or clearly not engaging with you, drop it. Don't waste time on impossible sells.
Master salespeople take the guesswork out of this step. Use 20 Miles to help you track when emails are opened, which attachments are viewed, and how long the prospect spent going through your files. You can use this information to follow up with the prospect with a targeted pitch, now that you know what about your product is interesting to them.
4) Don't forget to listen.
If you listen to the prospect's needs instead of overselling them you can directly answer how your product can soothe their pain points. Master salespeople believe you need to see, hear, and process that information before speaking.
5) Don't leave a meeting open-ended.
Remember to set clear next steps that outline expectations and prompt action from both parties. If you leave a meeting unsure of what the next step should be, send a simple and straight-forward follow up email asking for clarification.
6) Don't distract clients with irritating crutch words.
Practice pitches beforehand so you can cut out "umms," "hmms," "ers," and "ahs." These distracting non-words weaken your argument and lose the client's attention.
7) Don't bail on commitments.
Don't develop a reputation as a salesperson who lacks follow-through. Build trust by keeping your word, or stop making promises you can't keep.
8) Don't ignore the budget question.
You can easily waste time pitching a service that's way beyond your prospect's budget. Ask questions about their budget upfront so you can determine how high they prioritize your service and you can better tailor your offer to fit their needs.
9) Don't use statements instead of questions.
You want your close to be firm, but not ambiguous. After a prospect agrees to work with you, clarify the sale with a pointed question. Don't assume you know the final deal without confirmation from the decision maker.
In truth, the secret to becoming the ultimate seller is practice, practice, practice. Understand your own sales strategies process as much as possible and educate yourself constantly.
For more details, visit Hubspot partner Killerspots.com, Inc.
CREDITS:  Written by Nicholas Little