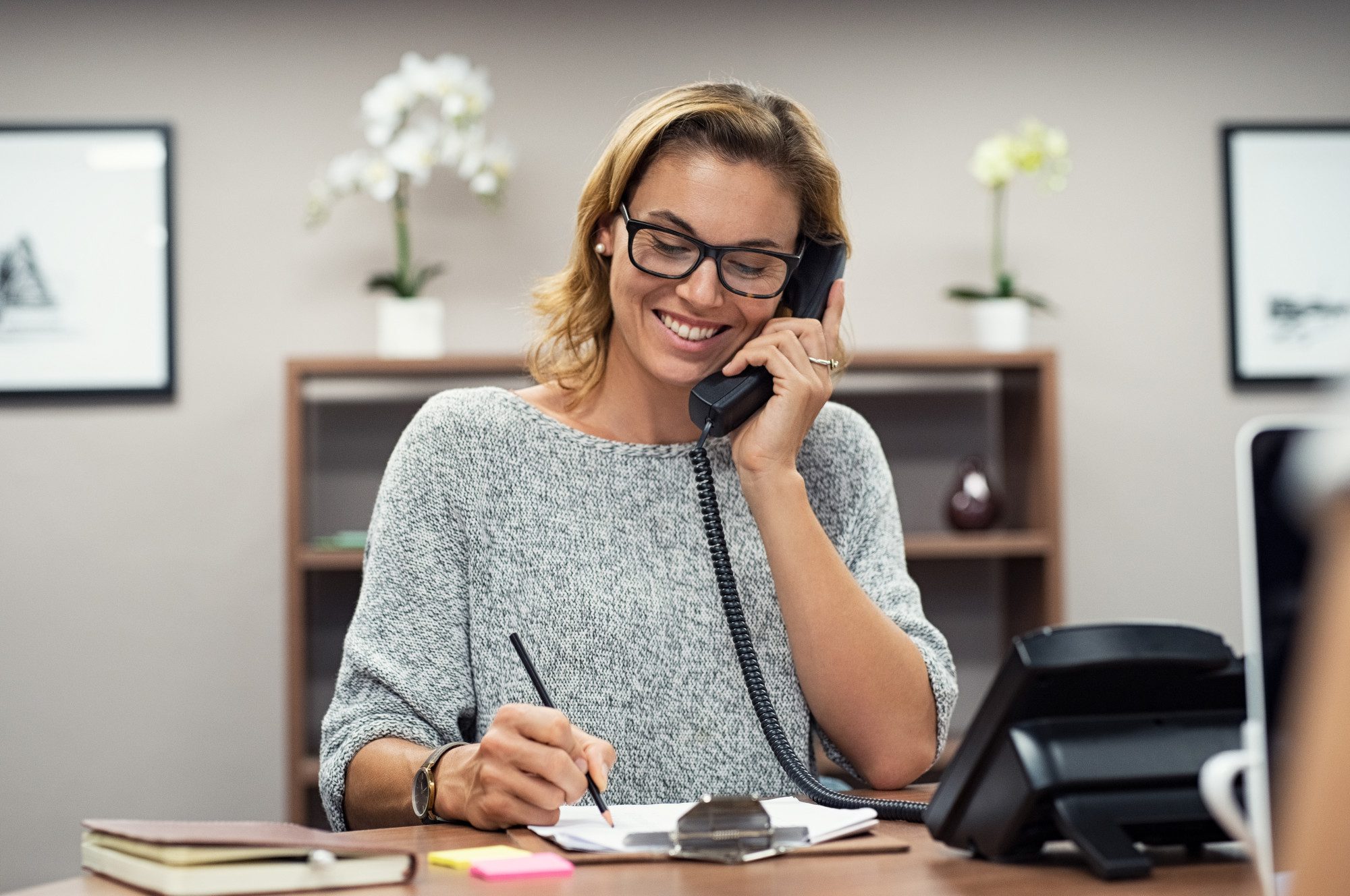 The average American will spend around 43 days on hold over the course of their lifetime. That works out to around 13 hours a year.
Small business owners hope their customers never spend that long waiting on agents. It's inevitable, though, that there are going to be times when customers will have to hold the line.
That's why small business owners must consider on hold messaging for their businesses. That's valuable time a customer is spending with a business. By not having the right on hold messaging in place, the business is missing a key opportunity.
So, how can small business leaders make sure they have the right messaging in place? This detailed guide walks through the ins and outs of crafting the perfect message. It also explores the impacts of on hold messages.
Why an the Right on Hold Message Matters
Before diving in to crafting the perfect message, it helps to understand the impact these messages have. On hold messaging is an often overlooked point of service. That means business leaders are missing a key opportunity to deliver an outstanding experience.
Customers may call a business because they have questions or they need help. In some cases, they're frustrated. Spending a long time on hold, listening to hold music, can make them more frustrated.
Some people may hang up. Others may decide they won't deal with a business again. They'll look for new partners.
Automated messages can help, but they need to contain the right information. The right message can help customers feel appreciated and supported.
They also provide an opportunity for business owners to communicate their latest deals. Cross-selling and upselling messages can be informative.
That's why small business owners should stay away from generic prerecorded messages. These don't help customers, and they can even increase feelings of frustration.
With that in mind, it's time to learn how to craft the perfect on hold messages for a small business.
Provide Estimated Wait Times When Possible
Business owners should let customers know how long they can expect to be on hold.
Generic automatic messages often tell customers that their call "is important" and to continue holding. The message may reassure customers that someone will be with them "soon."
Small business owners should look into systems that give customers an estimated wait time. Providing this information can keep people on the line longer. If they know it's only going to be a few more minutes, they're less likely to get frustrated and hang up.
Providing an estimate is more informative than saying "soon." It also isn't as frustrating as hearing an agent will be available "soon" for 20 minutes.
Offering an estimate can seem difficult. It's possible to find answering systems that will play a prerecorded message, followed by an estimates time calculated by the system.
Make on Hold Messaging Informative
Next, small business leaders should consider the messages they convey. Customers appreciate informative messaging. It offers them a much better experience.
That's one reason messages that thank customers for holding and tell them their call is important are popular. These messages reassure the customer that the business does value them.
They're not always enough, though. Offering the estimated wait time is one example of being more informative.
An on hold message should also include contact information. It may also give the customer other options for getting in touch. That way, if they can't wait the estimated wait time, they can still find another way to ask their question or express a concern.
This provides convenience to the customer, which improves their experience.
Next, think about informing the customer about deals, special offers, and more. A customer calling with a billing inquiry may be interested to learn more about a special deal the business has on offer. They may ask to switch their plan to that as a way of resolving their question or concern.
This helps the business keep the customer's business. It also helps improve the customer's own satisfaction. They'll be happier knowing their concern was addressed and they got a great deal.
Providing more informative messaging may mean switching messages more often. This can also keep customers interested. If they have to call a business often, then they may hear something new each time.
Crafting the Perfect on Hold Message
Now it's time to start crafting the perfect on hold messages for customers. There are five types of message content to consider:
The greeting
Offers and promotions
Answers to frequently asked questions
Review requests
Educational messages
Offers and promotions, educational messages, and FAQ answers are all highly informative. Greetings and review requests are more customer-service oriented.
The greeting is indispensable, but a business doesn't need to include all these types of messages. It may be helpful for a small business to pick one or two. A request for review and a few FAQ answers may be enough for a small business.
Tips for a Great Greeting
The greeting message should play when the customer reaches the phone queue. It should be warm and inviting. It should also give the customer key details, such as the name of the business they've called.
Including a business tagline can also help the customer know they've reached the right place.
The next lines should inform the customer about what will happen next. The message should identify that agents are currently busy and that the customer is on hold. If possible, customers should get an estimated wait time.
The greeting should only be played once. As the customer continues to hold, a variant may play. The message may thank them for continuing to hold and provide an updated wait time estimate.
Informative FAQ Answers and Educational Messages
Answering some FAQs in messages can be a great way to make use of the customer's valuable time. In some cases, they may even get the answer they're looking for from the message.
This can be helpful for both them and the business's agents. The customer can hang up, satisfied with the answer, and lines may free up.
Consider including information such as business hours, address, or other relevant information. A pizzeria, for example, might include information about where they deliver.
Educational messages may go beyond the FAQ answers. They provide supportive messaging that direct customers to helpful resources. An example is a tech company that directs people to a troubleshooting guide for common problems.
It's important to be supportive here. Customers often call as a "last resort." They don't want to hear about "simple solutions" that they've already tried.
Promotions and Reviews
As mentioned, giving customers information about deals or promotions may intrigued them or help them resolve an issue.
Asking for a review is another common message. The message will ask customers to consider rating their experience or leaving feedback. There may be a reward, like a contest entry, for leaving feedback.
Recording on Hold Messages
Now it's time to look at the recording process for small business on hold messaging. The first step is usually to write a script.
Many business leaders feel they don't need to come up with a script, because the messages are so short. Having a script is important, though.
It helps business leaders ensure the right information is given. A written script is easier to check for accuracy and completeness before recording. It can always be tweaked to sound more natural too.
The written script can also be rehearsed and referenced during recording. It can help the voice-over artist pace themselves so the message is easy to understand.
Working With the Professionals
Many small business owners skip on hold messaging. They believe it's too expensive to have someone else record their messages. They may also believe they can do it themselves, but they never find the time.
Working with professional voice-over artists is often more affordable than business owners think. It also gives messages a personalized flair. That can make messages warmer, more inviting, and even easier to understand.
It also means the job gets done on time.
It's important to find the right "voice" for a business, so don't hesitate to have a few people audition. Listening to samples can also help.
The right voice, combined with the right message, helps customers feel both reassured and appreciated.
Step up the on Hold Game
On hold messaging is more important than many business owners give it credit for. With the right messages and the right team, on hold messages can improve the customer experience and make more of their valuable time.
As a result, the right on hold message is important for any business's growth. Ready to discover what a better on hold message could do for a business? It's time to get in touch with the experts and hear the difference.